We know how hard it is to find your perfect gown and here at London Bride we love to help as much as we can! With 33 years of experience we hope we can offer some great advice when it comes to deciphering trends and bridal fashions, with this in mind we have taken the time to round up some of the hottest trends for 2013 and put them all in one place, because we're nice like that!
Convertible Gowns- Transformers
Convertible gowns are a huge trend for the coming year, these gowns are perfect for the indecisive bride or a bride who wants a more relaxed feel in the evening but still wants the show-stopper for the ceremony. Their name hails from the ability to remove straps, a top, a train or even an entire layer creating two separate looks, I know two dresses in one; dream!
Lace and Illusion Necklines
Lace is one of the most timeless and classic wedding dress fabrics, and this year it's still holding its own. Designers are taking the classic look of lace and giving it a twist this year with higher necks and bolder, floral graphics. Illusion necklines are a lovely soft option for any bride and this year they are everywhere, often removable (see above!) taking your beautiful lace gown to a new level of drama.
Embellished Gowns
Its all gone glitter, rhinestones and beading! After last years obsession with boho simplicity and festival chic, outlandish glamour is back on the agenda and its all embellished, gowns with a feel of luxury and attention to detail are making a a sparkly come back and we love it!
Fairytale Ballgowns
As much as we love a fish-tail slinky number, they don't suit everyone and some of us love the idea of a bigger more fun dress, if this is you then look no further than bang on trend Ballgown  dresses.  The high waist flatters the figure and gives a playful 50's feel while remaining bridal and formal. Go on, you know you want too!
We also have a new arrival which, we feel, combines all of the 2013 trends in one beautiful package; Essense DJ1368. This dress has a removable illusion neck line and sleeves, lace detail, an embellished bodice with a highwaist ballgown shape! Its got it all!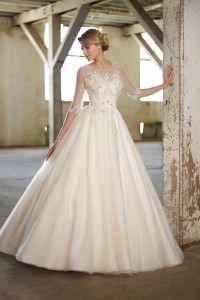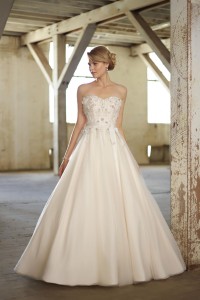 This and all of the dresses featured are available now at London Bride please call us on 02077036796 to book an appointment.
So there you have it, some great looks to aide you in your search for THE dress. Your welcome! x